Carré des Jardiniers 2017 theme: The good care of Doctor Garden
Nature is generous, feeder, constant, beautiful and rich. Inescapable enjoyments of cities and private houses, parks and garden are also appreciated for their benefactions on the health.
Plants, vegetables, flowers, earth, stones, fruits, are so many small treatments which act separately or together for the well-being and the health of people: gardens do good as soon as we take time to look at them, to listen to them, to feel them, to affect them and to enjoy them. A common objective: offer good care to the garden.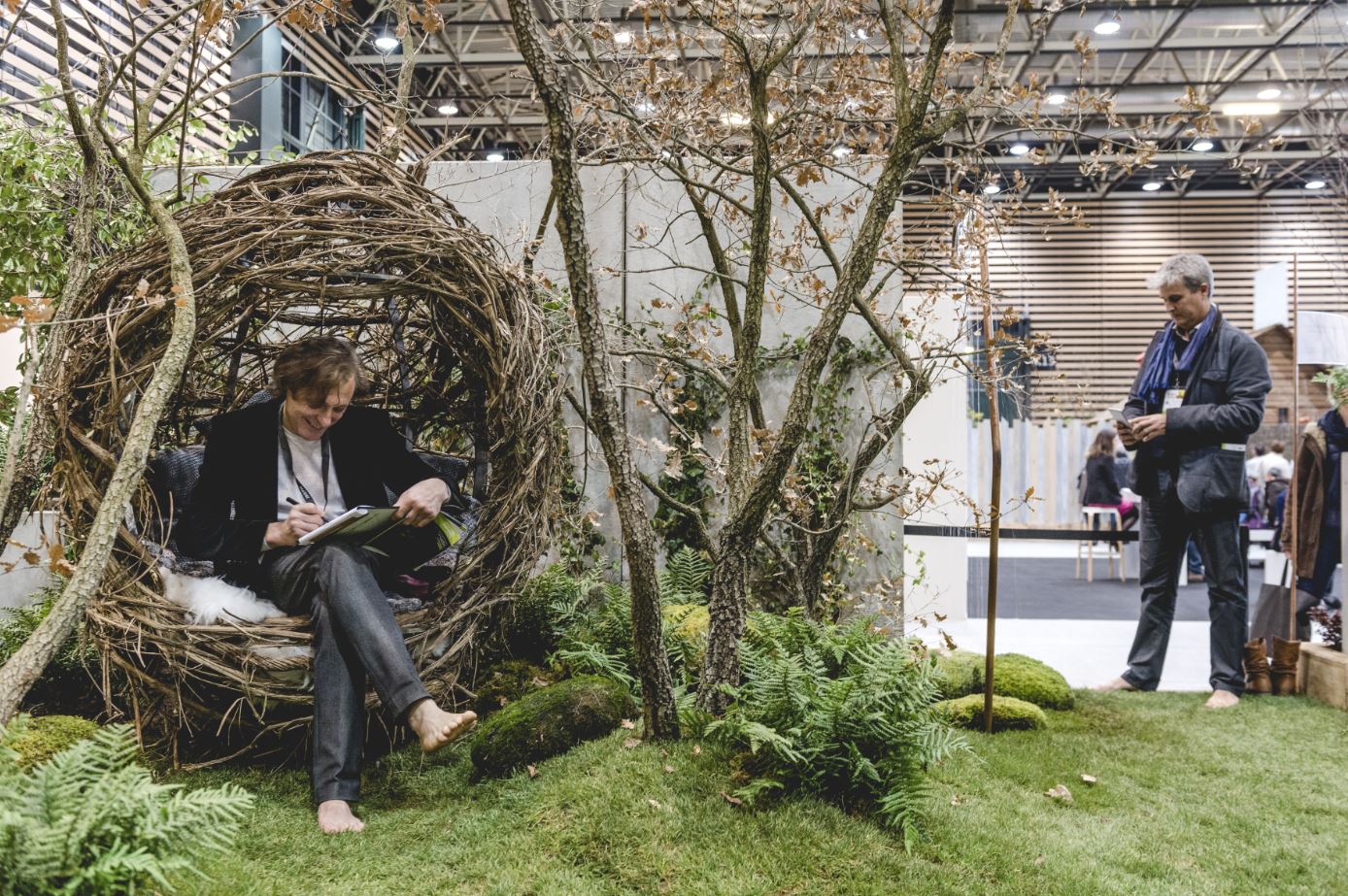 © Elisabeth RULL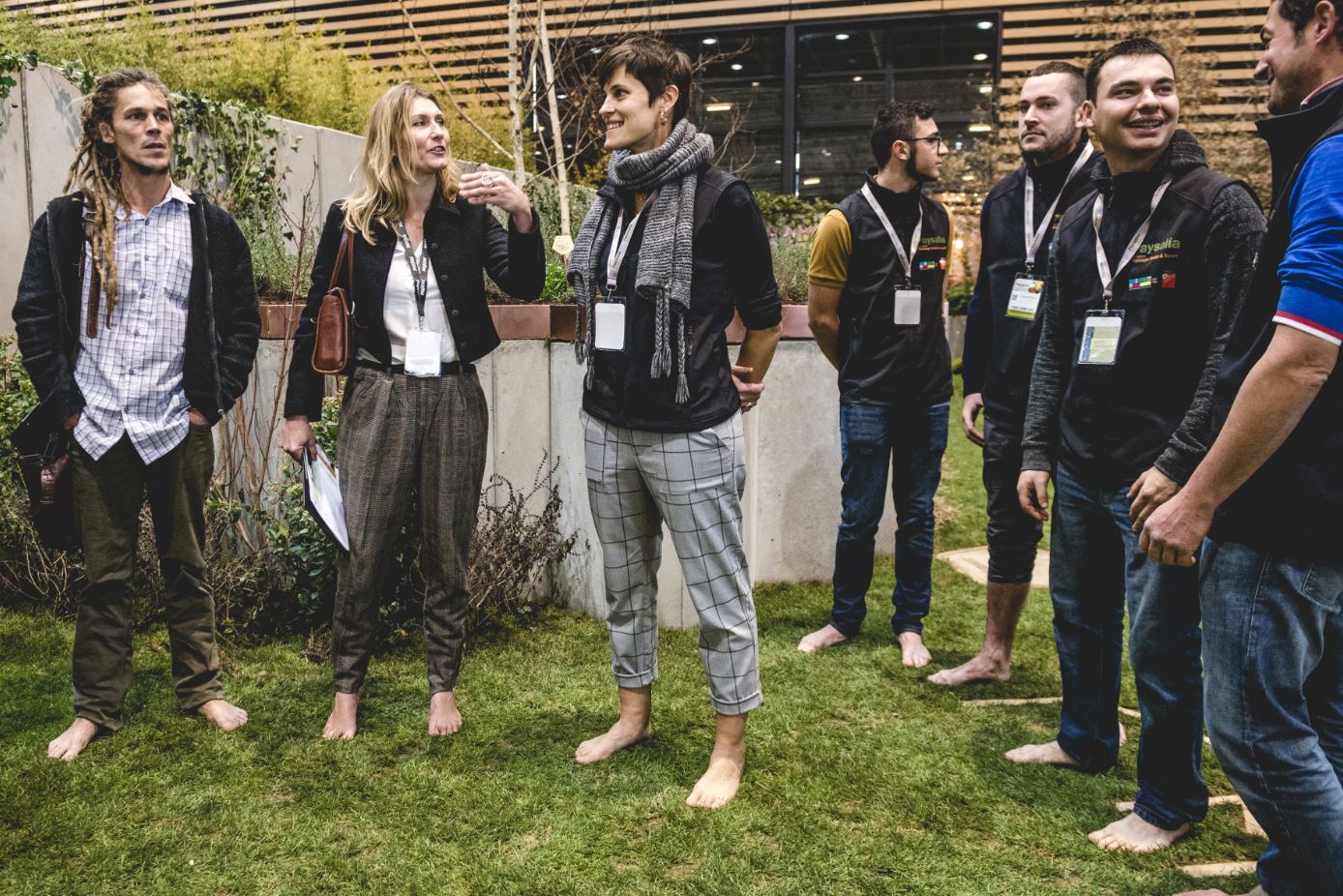 © Elisabeth RULL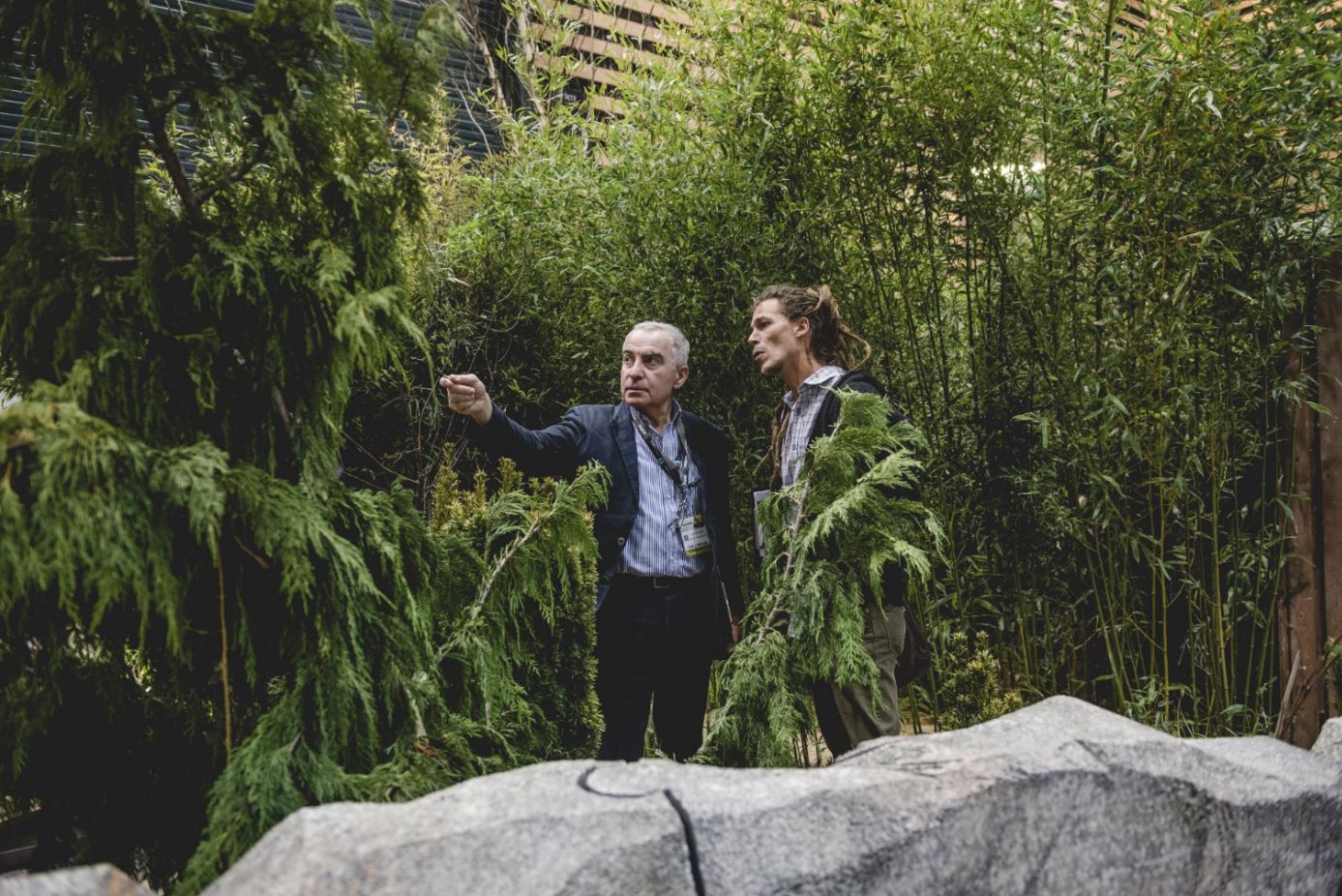 © Elisabeth RULL
Carré des Jardiniers 2017 finalists
MASTER GARDENER 2017 - Anne Cabrol with her garden "Les gens heureux"
Introduction
I propose the "happy people" garden with several spaces dedicated to feelings: a cocooning approach, a feeling of peace and getting back to nature. The whole imagined around angular graphics resembling the molecule oxytocin - the hormone generating pleasure and wellbeing.
Through this garden, I would like you, the visitors, to enter into yourselves to restore your balance and the key to your personal wellbeing. You start by removing your shoes to visit the garden barefoot and commune with nature, discovering the feelings of wellbeing walking on soft, comfortable moss.
Perhaps you will take a book to read during your time-out in this cocoon? Perhaps you will listen to some watery noises? In most cultures, water symbolises vital energy and is essential for wellbeing. Perhaps you will go directly to join other visitors in a friendly setting at the end of the garden? Or let your emotions rip by producing a vegetable tag? The important thing is for everyone to find their personal balance.
I decided to work with raw materials. Concrete evokes the presence of man, the coppered aspect adds friendly dimensions by its simultaneously soft and lively colour… and last but not least, wood to establish the link between the materials and the plants that were chosen for their structures but also for their medicinal virtues…
I hope that you will have as much pleasure when you discover this garden as I had designing it.
team
Damien BONNEFOY, Tarvel, Multi-skilled gardener
David GARCIA, Tarvel, Expert gardener
Clément PETAUD, Tarvel, Gardener, eager to learn
Pierre CANDELIER, Tarvel, Apprentice
Mathias Bonnin with his garden "Pour tous"
introduction
A garden is a source of wellbeing - a continuity of living space. One can, of course, augment this wellbeing by composing these surroundings by associating different elements.
Water, plants and minerals are the three main factors that make up beautiful landscapes but they have to be combined successfully to release their elixir of Wellbeing!
My garden is for everyone. I want visitors to laze on the benches and take time out from the present moment of Paysalia.
The sound of cascading water, the several types of foliage and the presence of different materials will create several ambiences and every visitor can choose a particular place matching their own mood to make the most of this moment of relaxation.
An audio system and a video projector will encourage flights of fantasy to landscapes all over the world.
A garden is also an ideal place to read a good book sprawled on the grass, in a hammock or a familiar deckchair, slightly worn because left outside during the winter!
A small library will encourage visitors to take a book and relax. The ground will be sown with grass and big pebble-shaped cushions to encourage visitors to sit.
For me the garden must be the place where you can say "This is Wellbeing", regardless of its size.
team
Pierrick FOURNIER, employee at Girardeau Green Spaces
Benjamin PERDIGAL, apprentice at Girardeau Green Spaces
François BONNIN, his father, retired landscape architect
Serge ZAPULLA, his faithfull friend, computer scientist and soundman
Etienne Bourdon with his garden "Vivre heureux avec Alzheimer"
introduction
This garden combines a set of workshops or "active materials" developed over several years with patients suffering from Alzheimer's disease.
The therapeutic objectives targeted by these workshops address: Sensory stimulation, the loss of functional autonomy - dependence - which increases as the disease evolves, cognitive disorders, and behavioural problems - in particular agitation and aggressiveness.
The unrestricted frequentation of a garden over several weeks at a minimum frequency of 4 times a week produced a significant improvement in each factor used to assess a patient's situation.
The meticulous choice of plants by a floor covering, perennial and grasses association is intended to create a progressive streaming of colours inducing changes of hues and profiles. For example,
the fine white lines on Arum lily leaves become broader features on Plantain lily leaves.
Orchestrated by the plants, this rhythm produces zones differentiated by colours and shapes, the visual perception of which facilitates the spatial location of disorientated people.
The plant cradle we present at Paysalia is intended to host visitors with benevolence in the hope that the continuation of our research will make it possible to live happily with Alzheimer in tomorrow's world. Visit the garden as often as you can! There are no side effects!
team
Andrew FISHER TOMLIN, Garden designer - Director of London College of Garden Design
Joël BELMIN, Doctor in Geriatrics - Head of the Geriatric Pole Charles Foix Hospital
Geoffrey SAUVIONS, Student
Guillaume DUBUIS, Landscape gardener - technical director of the O Ubi Campi group
Alban De La Tour with his garden "Liberté"
introduction
A light mist veils my sight, my shade cloaks me, a phantom brings the garden alive.
Is this an angel?
Lugubrious vegetation, cracking boards and the smell of compost wrap me and transport me in discomfort with a reflected vision of my body and the other. This hostile environment is like being trapped in a diving-bell – a symbol of my disease imprisoning its host.
Delicately I push branches aside to clear a path…
Light, a hut, the heat of a fire, this vision comforts me, the warm colours enliven me.
Could this be the beginning of self-acceptance?
My inner wall disintegrates. I know myself for a man. The disease, the phantom that haunted me since I came, disappears. I forget the deafening tick-tock of my internal clock and enjoy all these sensual savours. I smell, I drip and I touch the garden's happiness.
I shrug off my diving-bell and surrender my all to this sensory adventure.
This garden is punctuated with details and presents a vision of diseases often occluded by therapeutic gardens but omnipresent in our society - psychological and psychiatric illnesses.
Through this redeeming journey mainly focused on the patient as a social individual and not as someone ill, we hope to restore each patient's self- confidence and freedom as for all other users of our garden.
team
Jeremy Pereira, teacher at the CFA Saône et Loire
Ghislain DE MONSPEY, Aquascène
Hubert ODIN, apprentice, Aquascène
Thomas Caillet
---