Find all the documents of the Carré des Jardiniers competition useful for the press.
 
Carré des Jardiniers' press releases
FRANCK SERRA THE MASTER GARDENER 2021
Chaired by Jean Mus, the 2021 Carré des Jardiniers jury returned its verdict and on Wednesday the 1st of December announced the competition winner. With his exceptional garden called Human & Sensual, Franck Serra, the selected finalist joins the closed circle of Master Gardeners and wins the coveted title of "Master Gardener 2021".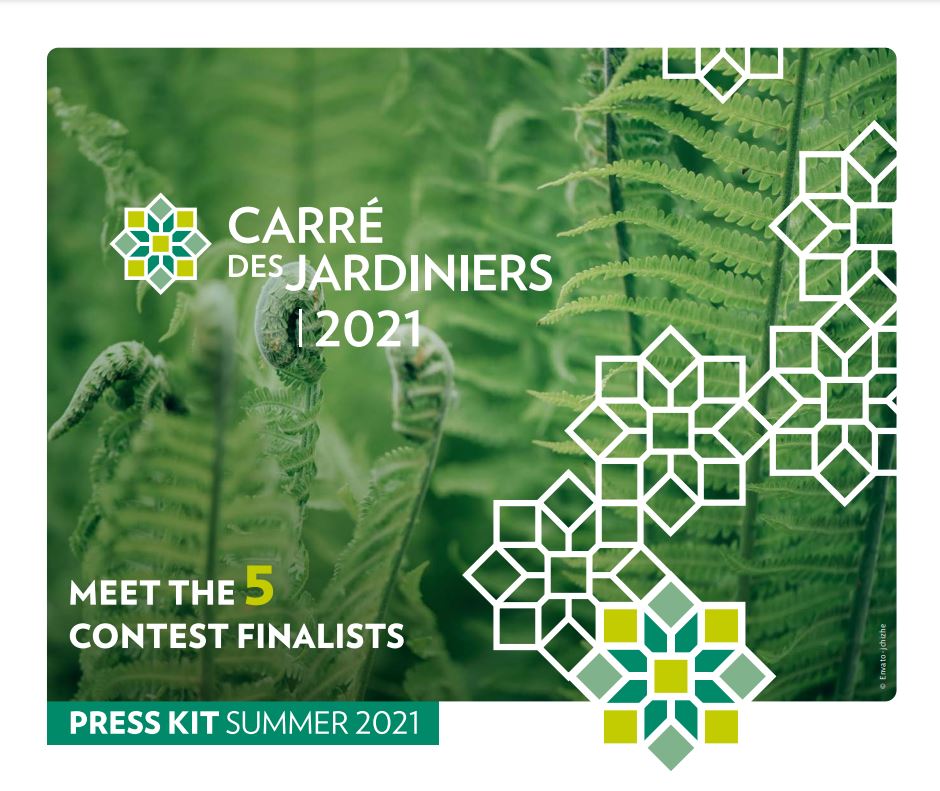 MEET THE 5 CONTEST FINALISTS
"Organized at Paysalia (held from November 30th to December 2nd, 2021 at Lyon Eurexpo, France), Carré des Jardiniers focuses on the values of gardeners and gardening."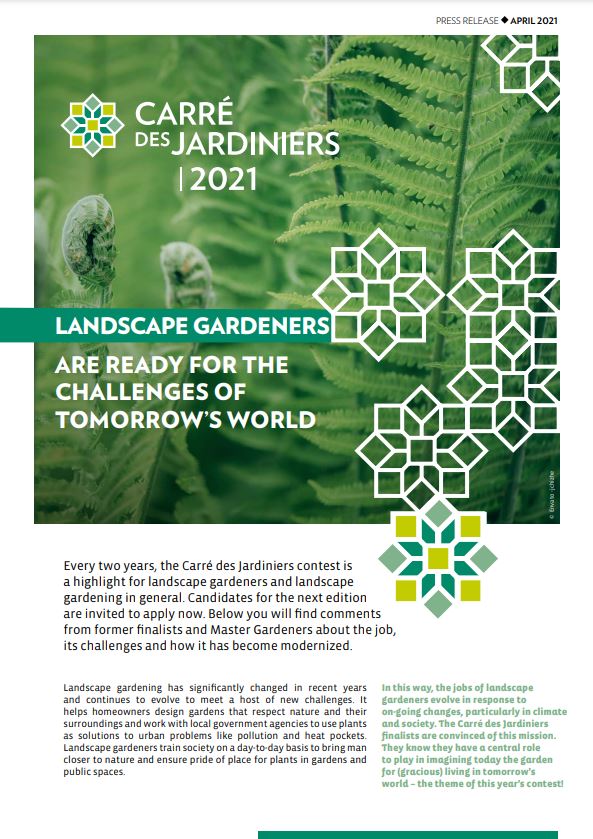 LANDSCAPE GARDENERS ARE READY FOR THE CHALLENGES OF TOMORROW'S WORLD
"Every two years, the Carré des Jardiniers contest is a highlight for landscape gardeners and landscape gardening in general. Candidates for the next edition are invited to apply now. Below you will find comments from former finalists and Master Gardeners about the job, its challenges and how it has become modernized."

LAUNCHING THE 2021 CARRE DES JARDINIERS CONTEST - A GARDEN FOR (GRACIOUS) LIVING
"The Carré des Jardiniers contest – symbol of excellence for the whole landscaping and gardening sector – is now open for candidate applications. For the 2021 edition the very French theme for people living in towns, suburbs or the country is "A garden for (gracious) living"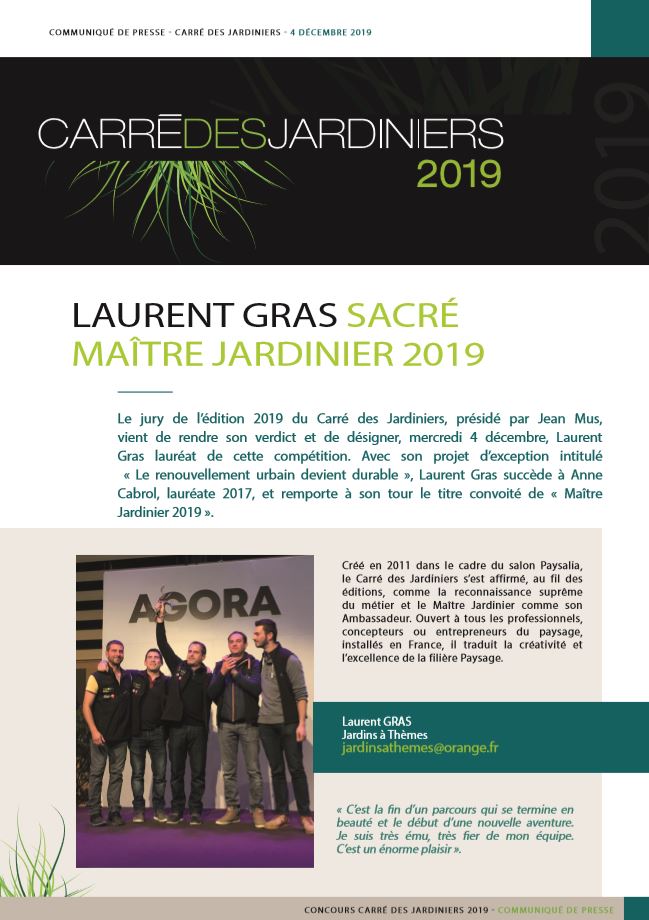 Laurent Gras, crowned Master Gardener 2019
"The jury for the 2019 edition of the Carré des Jardiniers, chaired by Jean Mus, has just handed down its verdict and appointed Laurent Gras the winner of this competition on Wednesday, December 4. With his exceptional project entitled Urban renewal becomes sustainable , Laurent Gras succeeds Anne Cabrol, winner of 2017, and in turn wins the coveted title of Master Gardener 2019."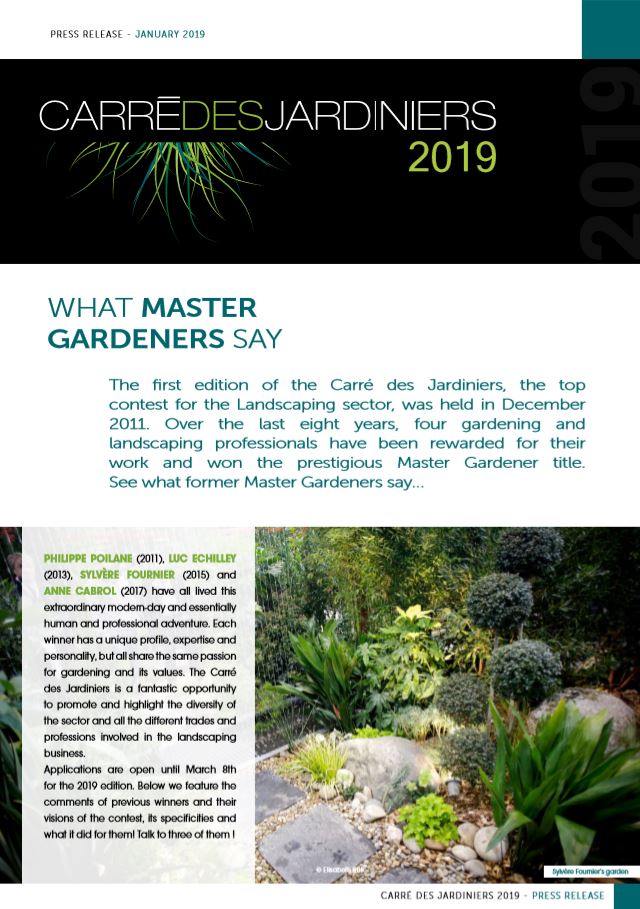 What Master Gardeners say
"Over the last eight years, four gardening and landscaping professionals have been rewarded for their work and won the prestigious Master Gardener title. See what former Master Gardeners say…"
 
---

The logos
 
of the Carré des Jardiniers contest

 
of Paysalia,
the landscape, garden ans dport exhibition
 
---
For more information, contact our agency agency directly:
Bonne Réponse
+ 33 (0)4 72 40 54 10
---